Open Trailers
Our selection of open trailers at Doubletake Trailers includes high-quality, durable construction and a long list of standard features including a 14,000-pound gross vehicle weight rating (GVWR), electric brakes on both axles, 6-foot structural channel tongue, and 3-foot structural channel cross members, just to name a few. These open-bed trailers were designed to carry vehicles, but they're great for hauling construction, landscaping, and other medium-sized equipment as well.
If you are looking for a heavy duty open-bed hauler, check out our inventory of equipment trailers manufactured by Liberty, with powder coating finishes that offer superior corrosion protection. These trailers were built to last, and can stand up to the rigors of daily use.
We offer an array of sizes to fit the job, from 6 X 10s to a 20-foot X 3-foot goose neck model. For custom specifications, contact a member of our knowledgeable staff for additional information.
76x10 Bulldog utility trailer with mesh sides and rear ramp gate
Stock #: BD76x10M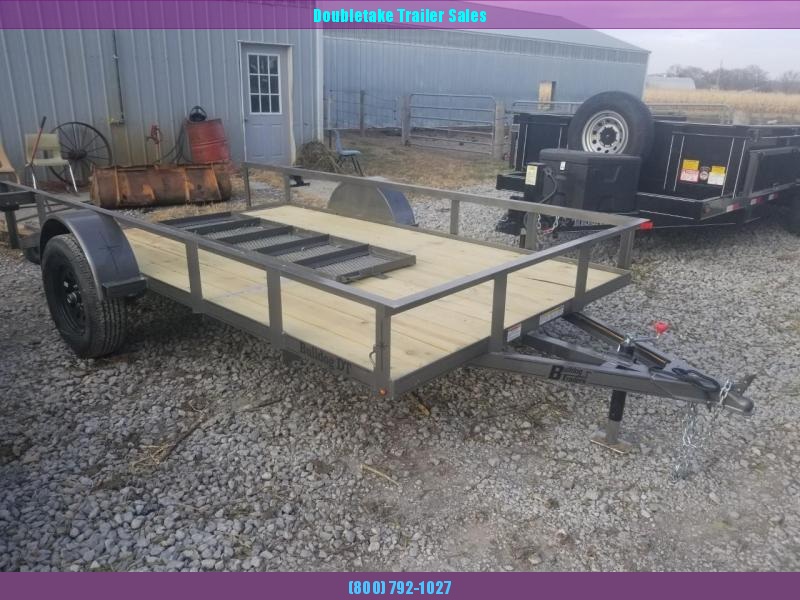 76 x 12 Bulldog dovetail utility trailer charcoal gray with black pinstriping and black wheels make this a sharp looking trailer
Stock #: BD76x12DTC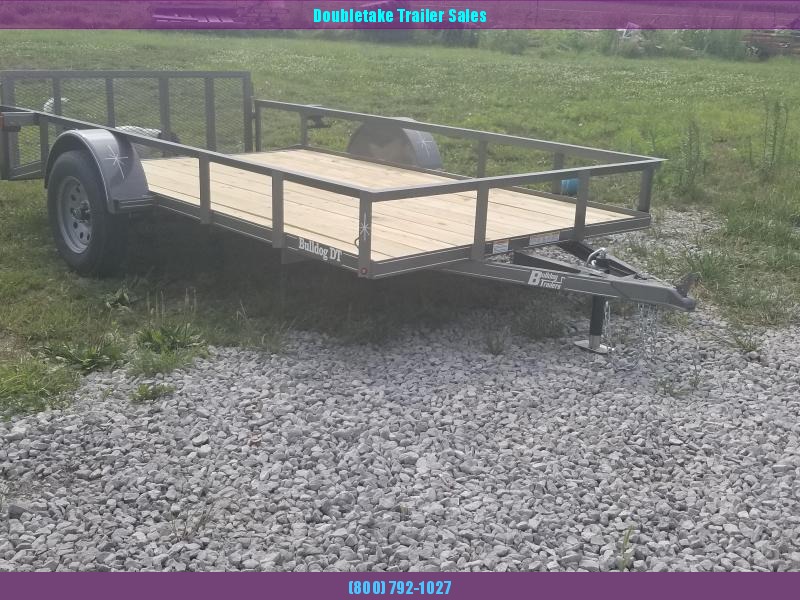 2019 BULLDOG 76X12 WITH DOVETAIL AND REAR GATE
Stock #: BD76X12DT
83X16 UTILITY TRAILER WITH TANDEM 3500 LB AXLES WITH ELECTRIC BRAKES AND RADIAL TIRE. REAR RAMP GATE TUBE TOP RAIL. POWDER COATED
Stock #: L83X16TU
This is a BRAND NEW 10'X6' with 2' tall expanded metal sides and a pipe top rail that is suitable for a variety of uses. Has 2x10 treated wood floor, 205/75/15" tires with a spare, lockable 2" hitch, fully wired and lit with four prong electrical plug, meets all state safety requirements....
Stock #: T6X10SAPTEXPS
Heavy Duty Pipe Top Bumper Pull 5" Channel Frame and Wrap Tougne, 3" Channel Cross Members ,1-Brake Axles ,2-5/16 Coupler ,Treated Lumber Floor ,12000# Drop Leg Jack , 5 FT Slide In Ramps or 5 FT Stand Up Ramps ,Diamond Plate Fenders ,2-7/8 Pipe Top Rail ,Spare Rack 7000# Axles ,2-5/16 Bulldog STYLE Coupler 12,500# Rating ,New 235/80/16...
Stock #: T83X20PTBP
3 x 2 x 3/16 Frame, 2-3/8 Pipe Top, 4" Wrap Tongue, Diamond Plate Fenders, 2" Coupler, Treated Lumber Floor, New 205/75D/15 Tires
Stock #: T77X16TAPT
4 Ft Expanded Metal Sides ,3 x 2 x 3/16 Frame And Cross Members ,2 x 2 x 1/8 Uprights And Top Rail ,4" Wrap Tongue ,2" Bulldog Style Coupler ,3500# Axles With 1- Brake ,New 205/75D/15 Tires And Wheels ,Diamond Plate Fenders ,Landscape Box in Front ,Weedeater Rack ,Tailgate
Stock #: T83X16LS
Get a Quote
Please enter your contact information and one of our representatives will get back to you with more information.
Click to Call
Please enter your name and phone number to get calling options.