All Inventory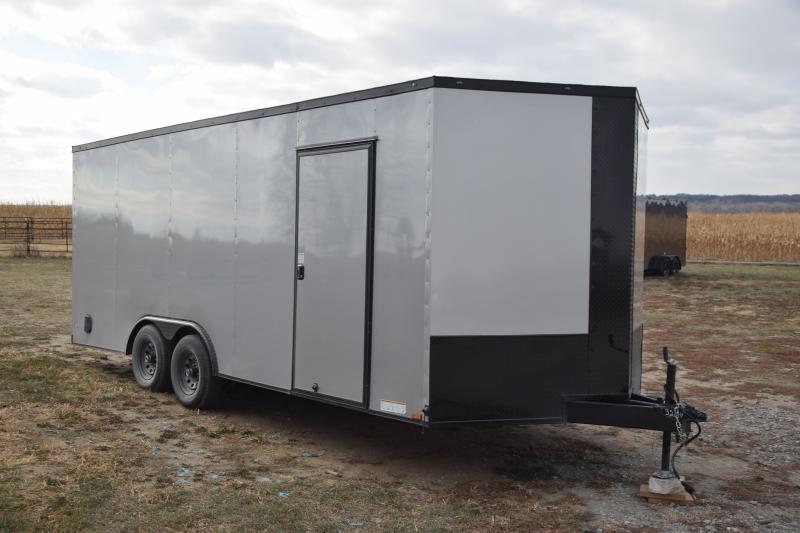 8.5X20 Xtreme Cargo with 7 foot interior height. This car hauler features tandem 5200 lb axles.
Stock #: EC8.5x20SBO
8.5x24 Extreme Cargo Enclosed Car Hauler 7' interior height tandem 5200 lb axles charcoal gray with black trim package
Stock #: EC8.5x24CBO
2023 Freedom 8.5x24 Tandem Axle Car Hauler. This Trailer features 7 foot interior height. Also included on this Freedom Car Hauler are tandem 5200 lb spread axles. This trailer also includes a silver .080 semi screwless exterior. The frame of this trailer is 16" on center floors walls and ceiling....
Stock #: F8.5x24SABO
Standard Features on All Trailers 16'' o.c walls and floor crossmembers 1x 1 1/2'' steel tube in walls and ceiling 3/8 plywood wall liner 3/4 plywood floor decking Drop leaf spring axles/EZ lube LED strip trail lights 3500lb axles (not 5 W and 6 W single axles) Chrome center...
Stock #: QC8.5x24
2023 Fast Cargo 8.5x24 Enclosed Car Hauler. This Car Trailer features 7' interior height and tandem 5200 lb torsion spread axles. Great Quality affordable price.
Stock #: FC001
7' tall 5200 lb spread axle blackout edition 2022 Titanium Cargo Trailers Tandem Axle 8.5 x 24 We offer a variety of trailers with various features depending on each size as well as numerous custom and additional features. Features may include: 16" Flap On Ramp Door (4) 6000 Ib D-Rings (1) Plastic Ramp Door Handle 16" On Center Cross Members White Aluminum Metal White Mod Wheel 3500 lb Drop Leaf Spring Axles w/E.B....
Stock #: T8524SA
2023 Fast Cargo 8.5x24 7 tall with tandem 5200 lb torsion spread axles .080 black polycore exterior with blackout package. Thermacool insulated ceiling. Dont let the good looks fool you the car hauler is ready to go to work for you. If you need a durable trailer that wont break the bank contact Doubletake Trailers!...
Stock #: FC85x24SABB
2023 Fast Cargo 8.5x24 7 tall 5200 lb spread axle Car trailer this car hauler has the stylish 5200 lb spread axle design and rugged durability
Stock #: FC8524TA3SAW
2022 Titanium 8.5x24 enclosed trailer with 7 foot interior height 5200 lb axles .030 semi screwless exterior.
Stock #: T8524BBOP
2022 Extreme Cargo 8.5x24 7 tall car hauler with 5200 lb axles white with black trim
Stock #: EC8524WBO
2022 Delco 83x22 Car Trailer J: A Frame 2 5/16 Coupler BUMBER PULL C01: Crossmembers, 3" Channel on 24" Centers 62ES: Axle, One 6K EZ Lube Idle & One Brake x 2 J07: Jack, 7K Dropleg 2: 2' Diamond Plate Dove-tail W/ Slide-in Ramps K: Black Paint B12: Wood Floor T93: 225/75/R16 LRD 10ply tires T94: No Spare Tire...
Stock #: DCH8322
Cynergy 2 8.5x24 with 7 foot interior heigh and tandem 5200 lb torsion spread axles. This car trailer also features a rear overhang with built in loading lights.
Stock #: C8524TA3SAG
Get a Quote
Please enter your contact information and one of our representatives will get back to you with more information.
Click to Call
Please enter your name and phone number to get calling options.